GAMBIA COLLEGE CAMPUS, GREEN CENTER AND TEACHER TRAINING SCHOOL, HANKESUUNNITELMA, BRIKAMA, GAMBIA
CHALLENGES: The main challenges in conducting the needs assessment and preparing the project plan included cultural differences, understanding the diverse impact of the context, such as climate conditions, investigating the suitability of construction methods and materials, and applying educational content and practices in project planning. Gathering the information needed for user-centered design has required the development and use of various methods. Interaction with users and clients through virtual means has brought new requirements for the digital operating environment and information processing.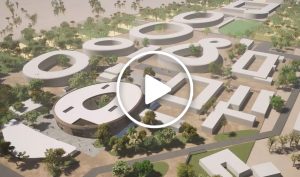 SOLUTIONS: In conducting the needs assessment, we utilized digital, internet-based interactive tools that we developed or already existed, as physical interaction was not possible due to the pandemic. Through virtual methods and discussions, the spatial program and functional objectives for the campus and Green Center were established. In investigating construction methods, local partners and builders provided information on possible construction solutions and climate-related challenges. The building design focuses on energy self-sufficiency and minimizing building systems. Temperature control utilizes low-tech solutions like gravity-based ventilation and shading structures that allow airflow. The building is designed with an open construction approach, enabling adaptability and multi-purpose use as needs evolve.
Location
Gambia
Year
2020